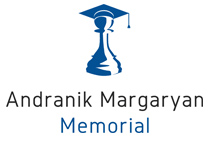 Swiss


Tournament
ChessAcademy.am
Andranik Margaryan Memorial 2015 - Round Robin
2015-12-25
The Round Robin Tournament held in the framework of Andranik Margaryan Memorial was officially announced open on January 8 at the Chess Academy of Armenia. Participants of the Round Robin Tournament are GM Bernadskiy Vitaliy and FM Matviishen Viktor from Ukraine, FM Alekseenko Kirill and IM Chigaev Maksim from Russia, GM Babujian Levon, GM Hovik Hayrapetyan, IM Harutyunian Tigran K., IM Petrosyan Manuel, FM Martirosyan Haik M. and IM Baghdasaryan Vahe from Armenia.
After the 9th round the cross table is as follows.
For the live games and photos of the Round Robin Tournament please click the respective buttons.
LIVE GAMES LIVE PGN/ARCHIVE PHOTOS
| | | | | | | | | | | | | | | | |
| --- | --- | --- | --- | --- | --- | --- | --- | --- | --- | --- | --- | --- | --- | --- | --- |
| N | Title | Name | Rtg | 1 | 2 | 3 | 4 | 5 | 6 | 7 | 8 | 9 | 10 | Pts | Rank |
| 1 | GM | Bernadskiy Vitaliy | 2556 | * | 0 | 0 | 0 | 1 | ½ | ½ | 0 | 1 | 1 | 4 | 6 |
| 2 | IM | Petrosyan Manuel | 2413 | 1 | * | ½ | ½ | 0 | 1 | ½ | ½ | 1 | ½ | 5.5 | 4 |
| 3 | IM | Harutyunian Tigran K. | 2439 | 1 | ½ | * | ½ | 0 | 0 | 1 | ½ | ½ | 1 | 5 | 5 |
| 4 | FM | Alekseenko Kirill | 2499 | 1 | ½ | ½ | * | 0 | ½ | 1 | 1 | 1 | 1 | 6.5 | 1 |
| 5 | IM | Chigaev Maksim | 2494 | 0 | 1 | 1 | 1 | * | ½ | 1 | 0 | ½ | ½ | 5.5 | 3 |
| 6 | FM | Martirosyan Haik M. | 2389 | ½ | 0 | 1 | ½ | ½ | * | 0 | 0 | 0 | 1 | 3.5 | 7 |
| 7 | GM | Babujian Levon | 2479 | ½ | ½ | 0 | 0 | 0 | 1 | * | 1 | 0 | 0 | 3 | 8 |
| 8 | GM | Hayrapetyan Hovik | 2451 | 1 | ½ | ½ | 0 | 1 | 1 | 0 | * | 1 | 1 | 6 | 2 |
| 9 | IM | Baghdasaryan Vahe | 2372 | 0 | 0 | ½ | 0 | ½ | 1 | 1 | 0 | * | 0 | 3 | 9 |
| 10 | IM | Matviishen Viktor | 2364 | 0 | ½ | 0 | 0 | ½ | 0 | 1 | 0 | 1 | * | 3 | 10 |
Useful links

chess-results.com

Weather in Yerevan
Organizers