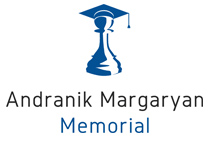 Swiss


Tournament
ChessAcademy.am
Andranik Margaryan Memorial: Rounds 1 and 2
2018-01-11
On January 9 and 10 first and second rounds of Andranik Margaryan Memorial took place at Chess Academy of Armenia.
In RR tournament the top seed of the tournament GM Parham Maghsoodloo of Iran is solely leading the table with 2 points out of 2. In the first round he defeated IM Vadim Moiseenko of Russia and in second round he took victory over 2017 Champion of Moldova, IM Nikita Morozov.
3 players – Aram Hakobyan of Armenia, Lukasz Jarmula of Poland and Klementy Sychev of Russia got 1.5 points apiece and are closely trailing the leader. Three other representatives of Armenia had a bad start in the tournament. GM Hovik Hayrapetyan has 0.5 point and GMs Artashes Minasian and Arman Mikayelyan have not scored points yet.
Round 3 pairings:
IM Nichita Morozov ​ – IM Vadim Moiseenko
IM Sychev Klementy – GM Parham Maghsoodloo
IM Aram Hakobyan – GM Arman Mikaelyan
GM Artashes Minasian – GM Hovik Hayrapetyan
GM Volodymyr Vetoshko – IM Lukasz Jarmula
Useful links

chess-results.com

Weather in Yerevan
Organizers