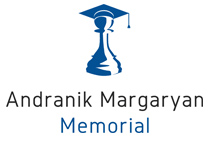 Swiss


Tournament
ChessAcademy.am
Impressive moments of Round 1
2020-01-10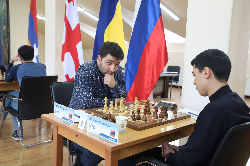 The 1st round of A. Margaryan Memorial came to its end. Victor Matviishen - Stefan Pogosyan match ended fastest. The Armenian chess player representing Russia played unsuccessfully at the opening, got a bad position and on move 15 made blunder which the opponent immediately took advantage of.
Evgeny Levin - Zurab Sturua played one of the famous versions of Queen's Gambit. Game passed in an equal fight and on move 20 the sides reached a peaceful agreement.
One of the modern versions of Queen's Gambit was applied in the match Artur Davtyan VS Hovik Hayrapetyan. Blacks managed to get out of the opening with a good chance of counterattack, but 20...Nd7 inaccurate move allowed Whites to break through the center with 21.e4 strong move and get a serious advantage. Already having a bad position Blacks made the second fatal inaccurate move.
Platon Galperin - Anna Sargsyan played the open version of the Spanish game. Blacks could fight for the only open line in the position through 17․․․Rad8 move and equalize the position, but they preferred 17․․․Rfe8 move after which Whites took the advantage. Afterwards, Whites failed to use their positional advantage and on move 47 the sides agreed to a draw.
The most impressive one was David Shahinyan - Armen Barseghyan game in which one of the sharpest versions of modern Benoni defense was used. On move 14 Blacks could not find the f5 move after which it was still possible to fight for equality, playing 14․․․b6 they got a hard position. Subsequently, Whites made the e5 breakthrough typical of the given position and gained a quality advantage. 24․․․Ba4?? blunder accelerated the victory of Whites. 25. Ne5 - Re5 26. Qb4! 1-0
Useful links

chess-results.com

Weather in Yerevan
Organizers