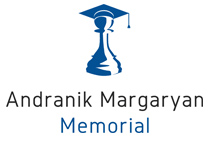 Swiss


Tournament
ChessAcademy.am
Small review of Round 2 games
2020-01-11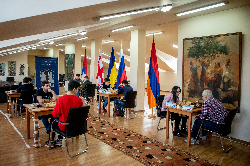 Round 2 of the Round Robin Tournament is over. Stefan Pogosyan - Evgeny Levin played a new Indian defense. Whites sacrificing a pawn at the opening, later failed to receive relevant compensation instead and Blacks eventually made use of their material advantage.
In the game Armen Barseghyan VS Artur Davtyan main events took place in the middle game: firstly, on move 21 Whites missed the chance to take advantage, then got a bad position. On move 28 Blacks playing Kh8 (Kh7 should be played in order to be able to play Kf5 -+ on the Be5 move) allowed the Be5 counterattack, after which Whites would have no problem, but not realizing the given opportunity Whites lost the game.
Hovik Hayrapetyan - Victor Matviishen game was a typical example of using the advantage of two bishops. The Anti-Meran version of Slav defense was played, after which Whites reached an endgame with the advantage of two bishops and skillfully took to the victory.
In the match Platon Galperin VS David Shahinyan Blacks lost the center at the opening, appeared in a very dangerous situation, but taking advantage of the opponent's not so decisive continuous moves, managed to get a good counterattack and immediately after that made blunder and lost quality with 29․․․Rh5 move, after which Whites quietly made use of their material advantage.
Anna Sargsyan - Zurab Sturua played an old Indian defense. Anna played very successfully at the opening and in the middle game earning a nearly winning position, but missed most of the advantage with 30․ Qf3 move. Afterwards, having disagreed to the draw, suffered a painful defeat.
Useful links

chess-results.com

Weather in Yerevan
Organizers