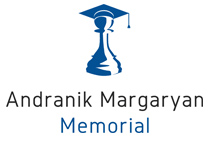 Swiss


Tournament
ChessAcademy.am
Summary of Round 3 results
2020-01-12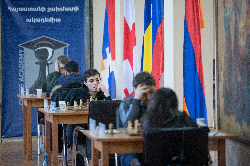 Victor Matviishen - Armen Barseghyan played the "stone wall" system of Dutch defense. The International Master from Ukraine, having a positional advantage, made some inaccurate moves, which the European U-16 current champion skillfully took advantage of and celebrated his first victory.
In Zurab Sturua VS Stefan Pogosyan match Petrosyan's version of new Indian defense was used. Whites preferred to make shifting on the queen's side, after which they began to attack on the king's side and reached a victory with beautiful sacrifices.
In the game Artur Davtyan VS Platon Galperin the old Indian defense was played. Blacks were more successful at the opening and took the initiative. Whites, wasting time inefficiently, found themselves in a disarray and lost the game.
In the match David Shahinyan VS Anna Sargsyan 17. g4 move made by Whites had a big importance. Blacks' counterattack was connected to the sacrifice of a figure, but they were not decisive and retreated, giving the opponent an advantage of two bishops. In the endgame Whites made use of their big positional advantage without difficulty.
Evgeni Levin - Hovik Hayrapetyan played the Anti-Meran version of Slav defense. After a long maneuvering fight in the middle game, Blacks gained a positional advantage and taking advantage of the opponent's blunder made on move 35, won a figure and made use of their material advantage.
Useful links

chess-results.com

Weather in Yerevan
Organizers