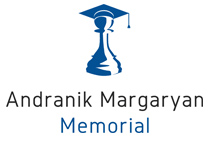 Swiss


Tournament
ChessAcademy.am
Hovik Hayrapetyan is leading A. Margaryan Memorial
2020-01-14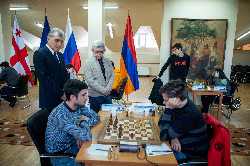 Andranik Margaryan 10th Memorial continues at Chess Academy of Armenia. Ten chess players are participating in the tournament, among them 5 Grandmasters, 3 International Masters, 1 FIDE master and 1 Woman International Master. Among the participants of Round Robin tournament is GM Zurab Sturua, the five-time champion of Georgia.
Yesterday the 5th round was played. Having scored 4 points out of 5, Hovik Hayrapetyan, who represents the Republic of Artsakh, is leading the table.
Artur Davtyan and Zurab Sturua hold respectively the 2nd and 3rd places with 3.5 points. Platon Galperin and Victor Matviishen from Ukraine are sharing 4-5 places with 3 points each.
The 3rd President of the Republic of Armenia, President of the Armenian Chess Federation Serzh Sargsyan, Deputy President of the Armenian Chess Federation Taron Margaryan and the First Vice- President of the Armenian Chess Federation, Founding Director of Chess Academy of Armenia Smbat Lputyan were following the course of the tournament.
The 6th round starts today.
Useful links

chess-results.com

Weather in Yerevan
Organizers