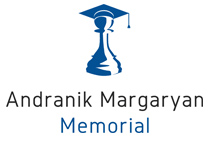 Swiss


Tournament
ChessAcademy.am
The 10th Andranik Margaryan Memorial will kick off tomorrow
2021-01-08
Dear chess lovers,

We are glad to announce that Andranik Margaryan's annual round-robin tournament will kick off tomorrow.

10 best young chess players from Russia, Iran, Belarus and Armenia will take part in the tournament.

P.s The opening ceremony will take place tonight. Tomorrow starting from 15:00 YVN you can follow the games in our website.
Useful links

chess-results.com

Weather in Yerevan
Organizers