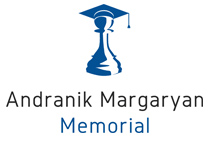 Swiss


Tournament
ChessAcademy.am
Andranik Margaryan Memorial Tournament is still going on at the Chess Academy of Armenia
2022-01-13
Andranik Margaryan Memorial Tournament is still going on at the Chess Academy of Armenia. Yesterday, the 4th game of Round Robin tournament took place, with absorbing and tough battle.
During the game of Petrov Nikita and Ohanyan Emin, who had the highest rating in the tournament, met a vital and educational rook final, where Nikita showed high proficiency and won.
The Persian Alavi Seyed Javad, who failed in the first and second rounds, celebrated an important victory with black pieces in the 4th round over Makaryan Rudik, who had a successful start in the tournament.
After the 4th round, the tournament was led by Sergey Lobanov, who took the lead in the game with Vahe Danielyan from the very beginning and brought it to a logical end, becoming the sole leader.
The success in the game between Artur Davtyan and Hovik Harapetyan accompanied Arthur, who celebrated his second consecutive victory and improved his tournament position.
Useful links

chess-results.com

Weather in Yerevan
Organizers