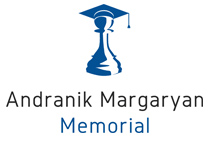 Swiss


Tournament
ChessAcademy.am
Andranik Margaryan 13th Memorial
2023-01-05
The Chess Academy of Armenia is organizing an International Chess Tournament "Andranik Margaryan 13th Memorial" from 8th to 15th of January, 2023. It is a 10-player GM norm Round Robin event held in 9 rounds.
Time control: 90 minutes for the first 40 moves + 15 minutes for the whole game (with 30 seconds increment starting from move one).
The total prize fund of the tournament is 3000 USD.
1st place – $ 1500
2nd place – $ 900
3rd place – $ 600
Participants for GM norm Tournament:
| | | | | |
| --- | --- | --- | --- | --- |
| N | Title | Surname/Name | Federation | Ratings |
| 1. | GM | Sychev Klementy | RUS | 2556 |
| 2. | GM | Lobanov Sergei | RUS | 2540 |
| 3. | GM | Sturua Zurab | GEO | 2521 |
| 4. | IM | Davtyan Artur | ARM | 2517 |
| 5. | IM | Daneshvar Bardiya | IRI | 2500 |
| 6. | | Pour Agha Bala Amirreza | IRI | 2496 |
| 7. | IM | Shahinyan David | ARM | 2432 |
| 8. | IM | Ohanyan Emin | ARM | 2384 |
| 9. | WGM | Mkrtchyan Mariam | ARM | 2381 |
| 10. | FM | Chaqryan Erik | ARM | 2311 |
Participants for IM norm Tournament:
| | | | | |
| --- | --- | --- | --- | --- |
| N | Title | Surname/Name | Federation | Ratings |
| 1. | GM | Matinian Nikita | RUS | 2425 |
| 2. | FM | Averin Nikolay | RUS | 2323 |
| 3. | FM | Sahakyan Aleks | ARM | 2307 |
| 4. | FM | Piliposyan Robert | ARM | 2295 |
| 5. | FM | Davtyan Arsen | ARM | 2293 |
| 6. | | Hayrapetyan Edgar | ARM | 2277 |
| 7. | IM | Shalamberidze Akaki | GEO | 2274 |
| 8. | IM | Morchiashvili Bachana | GEO | 2271 |
| 9. | CM | Agasarov Benik | ARM | 2249 |
| 10. | | Pashikyan Rudolf | ARM | 2202 |
Useful links

chess-results.com

Weather in Yerevan
Organizers